ovela clinic
Ovela Clinic provides skin care services in Jakarta Selatan area. We offer a very personal skin care treatment and also a deeper understanding of comprehensive healthcare to our patients. In addition to being a skin clinic (beauty clinic), we also provides alternative treatment such as ozone therapy, preventive medicine and holistic anti-aging approach
Healthy in the inside, beautiful in the outside!
We offer a set of customized aesthetic solutions for patients who wish for a more rejuvenated skin and a fresh, younger appearance, but not yet ready to undergo 'under-the-knife' procedure. Our aesthetic procedures range as from non- to semi- invasive treatment, which are divided into three main categories: external aesthetic treatment (skin rejuvenation, glowing facial, mesotherapy, chemical peeling, botox/filler, IPL photo rejuvenation, slimming, hair removal, etc); internal anti-aging approach (hormone replacement therapy); and preventive healthcare measurement (vaccines, in-house laboratory examination, life or health insurance). Through comprehensive medical programs, tailored by our professional doctors, a flawless beauty is formulated and specially gifted to our valuable clients.
OUR TEAM
our doctors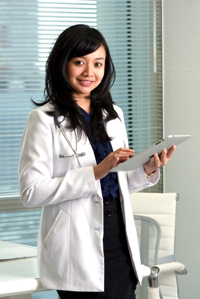 Dr. Ovin Endah Lestari, B. Med. Sc, Dipl. CIBTAC, M. Sc
Dr.Ovin obtained her medical degree at University of Indonesia, in Jakarta, and at the same time, achieved her Bachelor of Medical Science at University of Melbourne, Australia. She also had an internship in Dermatology Department at National Skin Centre (NSC), Singapore in 2009. In early 2011, she was finally internationally UK-certified for skin treatment approaches and cosmeticologie.
Adding to her profesional education, she achieved her Master of Science focusing on Aesthetics, Anti Aging and Regenerative Medicine at UCSI University in 2016. Establishing a well-running medical practice, as to support pro-bono activities, has been her dreams since she was a medical student. Dr. Ovin also believes in inspiring and educating people for healthy lifestyles, to integrate wellness and beauty in their lives. Through her carriers, Dr Ovin had her medical practice at Premiere Clinique, an anti aging solution, in Plaza Indonesia, and continued her career as an assistant of Senior Dermatologist in Pelni Hospital. Other than medical field, Dr Ovin finds herself enjoyable as a presenter/host or moderator for a TV program, especially in a medical-related or educational program, for Bunda Hospital, FKUI-RSCM, MPR-RI, ANTV, Trans TV, Prodia, pro-bono events, etc. She is now actively involved in 'Ikatan Abang None Jakarta' organization, helps facilitate and promote positive habits and lifestyles to young generation through HR department. Her leisure times have become very useful for others too, as she writes medical articles for magazine, see www.ovelaclinic.com, page 'Media'. And lastly, Dr Ovin intends to offer her patients in Ovela Clinic a 'beyond medical care' experience. Contact Dr Ovin at dr.ovin@ovela-clinic.com
Other Practicing Aesthetic Doctors :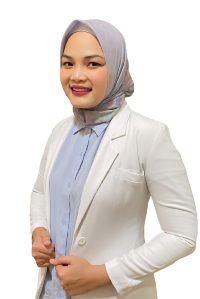 Dr. Ajeng Mega Susanti
Dr. Ajeng Mega is a professional medical practitioner who puts a huge interest in face beautification. She graduated from a prestigious Trisakti University in Indonesia and has been in the aesthetic field for more than 4 years. Dr. Ajeng Mega has participated in numerous national and international anti aging and aesthetic congresses, including private workshops and trainings held by certified international trainers. Having a belief that the greatest wealth is health, she is always passionate in educating others for healthy livings with her warm personality. Contact Dr. Ajeng Mega at dr.ajeng@ovela-clinic.com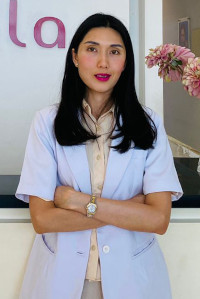 Dr. Jessica Panjaitan, M.Biomed (AAM)
Dr. Jessica graduated from University of North Sumatera with Medical Degree in 2017, she continued her study by acquiring Master of Biomedical Science in Anti Aging and Aesthetic Medicine with Great Honour Predicate Magna Cumlaude from Prima Indonesia University in 2022.
Having experiences in skin care as an Aesthetic Doctor and Medical Manager, Dr. Jessica is listed as a certified member of PERDAWERI (Perhimpunan Dokter Anti Penuaan, Wellness, Estetik & Regeneratif Indonesia).
She likes to read books in her spare times, and actively deepens her knowledge by attending medical seminars dan trainings regarding anti aging, wellness and aesthetics.
Quotes : "The best foundation you can wear is glowing healthy skin"
Contact Dr. Jessica at info@ovela-clinic.com
Our Managing Director :
Supported by our nurses, pharmacists, and other ovela team.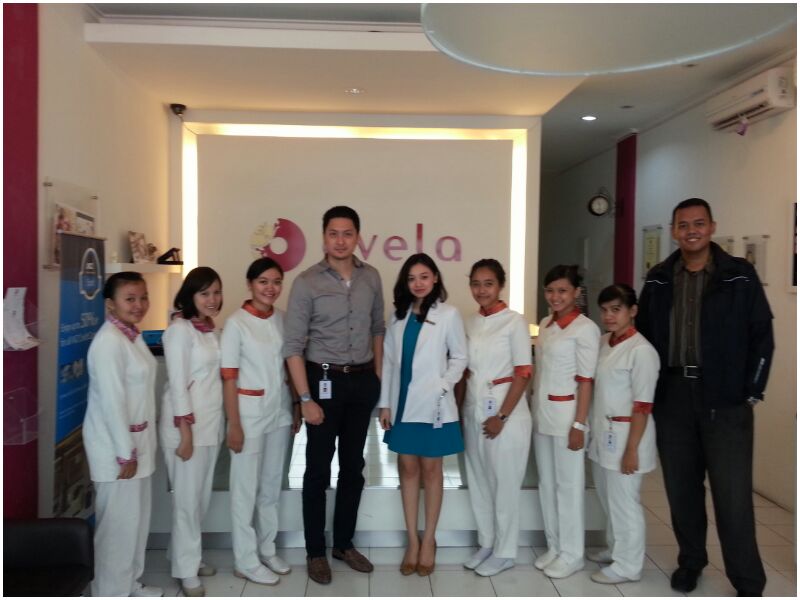 Contact us: info@ovela-clinic.com