Recent Posts
Archives
Categories
Tags
acne
,
acne scar
,
aging
,
aging symptom
,
anti aging
,
awet-muda
,
body weight
,
botox
,
collagen
,
dermaroller
,
exfoliating
,
facelift
,
fat
,
filler
,
hair fall
,
hormone
,
hormone replacement
,
hyperbaric oxygen
,
intraceutical
,
light rejuvenation
,
microdermabrasion
,
pigmentation
,
platelet rich plasma
,
prp
,
radio frequency
,
serum
,
skin care treatment
,
skin whitening
,
slimming
,
slimming treatment
,
vitamin
,
wajah-tua
,
wrinkle
Posted on September 11, 2012
Time flies by, however, you still have to look attractive and well skin-treated, especially for a memorable midyear getaway. The use of daily cosmeceuticals, such as a brightening serum, a day/night cream and a sun protection cream, obviously remains a remarkable way to keep a healthy and radiant-looking skin. Looking deeper, the efficacy of the cream application is yet influenced by several factors; one of them is the readiness of skin itself to absorb the nutrients. In other words, well-degree of skin penetration should be established first, to gain optimal benefits from the skin care products.
Topmost layer of the skin, stratum corneum, which contains a set of dead skin cells, is known to become a barrier for vitamins and nutrients to penetrate into deep skin layers. To permit a well penetration, it is necessary to slough off the dead skin layer (stratum corneum), which commonly causes the rough skin surface, due to turnover of the cells. One latest non-invasive procedure, called Microdermabrasion, is now available to relieve such skin conditions. Microdermabrasion, also referred to as mechanical exfoliation, is a cosmetic procedure that uses mechanical medium for skin exfoliation, followed by adjustable suction to remove the dead skin cells. This technique has become favorable for its very minimal down-time and in-office fast and quick treatment duration. Not only removing dead skin cells, which may increase up to 50% of cream penetration, but microdermabrasion is also famous for its miracles to many minor skin imperfections, such as hyperpigmentation, fine wrinkles, shallow acne scars and other minor blemishes. Adding to the advantages, there is no activity restrictions, post this procedure. Apart of it, however, some skin conditions are relatively contraindicated to this cosmetic technique. For the reason, a thorough individualized doctor's consultation is really recommended prior to the treatment.
Get your skin rejuvenated and be sparkling on your holiday. Through the above skin approach, exfoliation of the most outer skin layer will facilitate the penetration of the vitamins and nutrients into deeper skin layers, which then enhances the efficacy of cream application, creating a much more youthful appearing skin. Happy Holiday!
Dr. Ovin Endah Lestari, B. Med. Sc
dr.ovin@ovelaclinic.com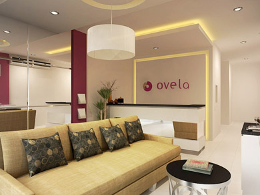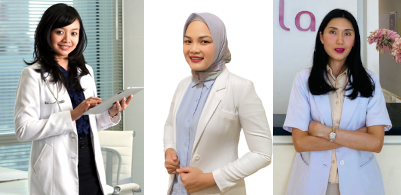 Visit Ovela Clinic today or learn more about November Promotion. Find out what people say about our clinic from social media. Click services page to learn more about our complete health care services or click here for tips and tricks. Call us today at 021-8314473 and set up an appoinment with dr. Ovin Lestari or dr. Ajeng Mega Susanti.