Recent Posts
Archives
Categories
Tags
acne
,
acne scar
,
aging
,
aging symptom
,
anti aging
,
awet-muda
,
body weight
,
botox
,
collagen
,
dermaroller
,
exfoliating
,
facelift
,
fat
,
filler
,
hair fall
,
hormone
,
hormone replacement
,
hyperbaric oxygen
,
intraceutical
,
light rejuvenation
,
microdermabrasion
,
pigmentation
,
platelet rich plasma
,
prp
,
radio frequency
,
serum
,
skin care treatment
,
skin whitening
,
slimming
,
slimming treatment
,
vitamin
,
wajah-tua
,
wrinkle
Posted on September 11, 2012
Skin whitening, commonly known as skin bleaching, has captured tremendous attention among many Indonesian women. Even men are widely known have strong interest on it also. Healthy, fairer and even skin tone are idealized by most people nowadays. However, unfortunately they often do random-picked cosmeceuticals products and treatments. Despite of the benefit of applying those products, negative health impacts of whitening products, which may appear after a long-time use, should also be considered. For this reason, the consumers need to be knowledgeable about the active ingredients of the products used, to minimize possible systemic reactions.
Let's see from the medical point of view. It is believed that the production of melanin, which is responsible for giving the dark color to the skin, is activated by tyrosinase enzyme. The lower the activity of tyrosinase enzyme, the lower the melanin production. Thus, the lighter the skin tone will become. Tyrosinase inhibiting agents, therefore, become the treatment of choice for Skin Whitening treatment. The common marketed-agents include hydroquinone (HQ), ascorbic acid (vit C), vitamin E, arbutin, kojic acid, licorice extract, azelaic acid, N-acetyl glycoamine, etc. The concentration of each prescribed-cream/lotion/gel may vary among individuals, as well as the frequency of use, depending on the skin conditions. Moreover, other common cosmeceutical agents, such as, AHA, BHA, niacinamide, retinoids, linoleic acid, also function as whitening agents, but act differently.
Opulence Intraceutical™, which contains botanical brightening complex, has been very popular in Hollywood community, as well as in Ovela Clinic, for its skin balancing effects on uneven pigmentation, leaving skin smooth and more radiant. Using the hyperbaric oxygen technology, specific multivitamin serum, which acts as the melanin production suppressor, is infused into the skin. However, many treatments use a holistic combination of external/topical approach (brightening night cream and sunscreen), and internal approach (oral vit-C supplements / vit-C injection or premiere whitening detoxification), which is the most recommended skin whitening treatment. Also put in mind, that, personalized doctor's consultation is certainly encouraged to establish maximum Premiere results, because each person differs.
Dr. Ovin Endah Lestari, B. Med. Sc
dr.ovin@ovelaclinic.com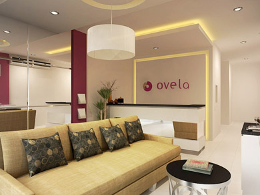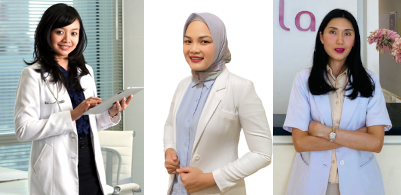 Visit Ovela Clinic today or learn more about September Promotion. Find out what people say about our clinic from social media. Click services page to learn more about our complete health care services or click here for tips and tricks. Call us today at 021-8314473 and set up an appoinment with dr. Ovin Lestari or dr. Ajeng Mega Susanti.